Cromarty Ukulele School
The Celtic Connections Ukulele School comes to Cromarty!
Saturday 18th & Sunday 19th March 2017


To download a Booking Form in Word, click
here.
To download a Booking Form as a pdf, click
here
.

Direct from the Celtic Connections Festival in Glasgow, Finlay Allison, senior tutor with Glasgow Fiddle Workshop, brings all the fun and accessibility of the ukulele to life in this series of workshops.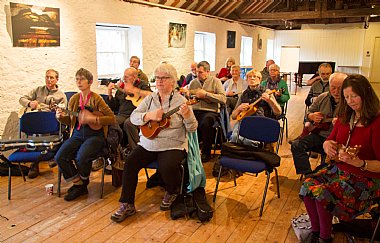 Finlay will provide a ukulele for you to try and will have some basic models for you to buy if you'd like to take one home and carry on with your playing.
Ukulele School is primarily for those with some experience of playing the ukulele. You should be familiar with the chords of C, F, Am and G7. Finlay will be teaching you how to play in other keys as well as developing strumming techniques with hints, tips and explanations to help you build your skills and raise your game!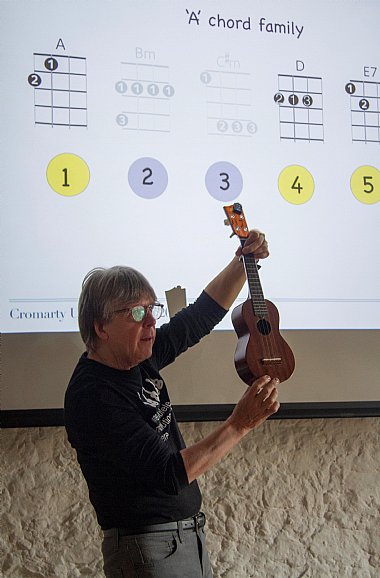 The four workshops (two on Saturday; two on Sunday) are designed so that players should be able to advance through each one as their skill level and confidence builds. However, you can opt to take as many or as few as you wish!
We also offer a Complete Beginners one-off session on the Saturday morning for anyone keen to give this verstatile instrument a first go!
Workshop 1 - Sat 18th - 10.30am - 12.30pm (£15)
Workshop 2 - Sat 18th - 2.30pm - 4.30pm (£15)
Workshop 3 - Sun 19th - 10.30am - 12.30pm (£15)
Workshop 4 - Sun 19th - 2.30pm - 4.30pm (£15)
COMPLETE BEGINNERS - Sat 18th - 11.00am - 12.30pm (£10)
We offer Residential Packages (Sat night only for £125; Fri & Sat nights for £160) that cover all four workshops, plus the following:
Delicious Lunches each day in the Old Brewery Cafe
B&B Accommodation available in the Old Brewery
Saturday evening dinner followed by session with local musicians
Or, you can book any individual element(s) of the weekend - please see the Booking Form above for all prices.
We look forward to seeing you in March!
View archived events: