Student Residency Prize
Residency Opportunity at Cromarty Arts Trust
Who Can Apply?
The Cromarty Arts Trust Student Residency Prize is open to any student who will graduate this year OR any artist who has graduated in the past two years, from a college or university in Scotland and in ANY art form. The prize consists of a student residency at the Cromarty Stables for one month in the Autumn 2017.

What You Get
Accommodation (that can be shared with a partner) and studio space will be provided. A grant of £750 towards travel, materials and subsistence costs will also be paid to the winner. The residency is primarily intended to provide an opportunity for the winning artist to develop their own work in a new and inspiring environment at the beginning of their artistic career.

What We Get
The resident artist will also be expected to:
• Hold an event such as a talk or workshop and a small, informal exhibition.
• Write a short retrospective report about their residency.
• Leave behind a piece of their work for the Cromarty Collection.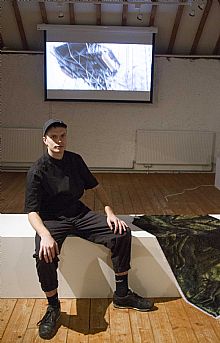 How To Apply
Applications should include no more than 5 items: photographs, written pieces, examples of work and a brief statement (max 1000 words) about the themes you would hope to explore or develop during the residency. Images on CDs are welcome. Two relevant references should be provided along with your application.
Applications should be made directly to the Cromarty Arts Trust, at the above address not later than 5pm, Friday 9th June 2017.
PLEASE NOTE: The deadline has now been extended to Friday 16 June!
Benji Cluness, recipient of the
2016 Student Residency Prize
What Happens Next?
A Highland-based panel which will include at least one established artist and representatives of arts organisations and the Cromarty Arts Trust will decide on the winner and all entrants will be notified by mid July 2017.