Cromarty Harp Village
Saturday 22nd & Sunday 23rd September
The Old Brewery

Download 2018 Application Form here - coming soon!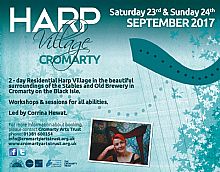 A 2-day residential CROMARTY HARP VILLAGE in this beautiful and vibrant seaside town.
Innovative harpers Rachel Newton and Cheyenne Brown will join Corrina Hewat in leading a special weekend of harp workshops and sessions in the Old Brewery. We are excited to have such a diverse wealth of talent coming to join us. This will be a magical weekend of tunes, songs, accompaniment ideas and tips to recognise the distinctive gifts you bring to your instrument. There is something for all harpers with the wonderful Issie Pendlebury supporting beginners.
The Harp Village will include a Saturday evening all-inclusive session in the Loft Studio of the Old Brewery - a great space for a session and wonderful acoustics.
Workshops cost £20 each on Saturday and Sunday. Saturday dinner and Megaharp Session, £22.
Residential packages are available with accommodation at the Old Brewery.
Please email info@cromartyartstrust.org.uk or tel 01381 600354 if you would like to know more about any aspect of the Harp Village.
Cromarty - Harp Village promo-HD from Cromarty Arts Trust on Vimeo.
Harpist Corrina Hewat introduces the Cromarty Harp Village
See our harp tutorial videos recorded at the 2015 Harp Village.