Music Workshops
Scroll down for information on:
VOCAL JAZZ WORKSHOP
WORKSHOPS WITH THE SHEE
SING YOUR HEART OUT
BLACK ISLE FIDDLE WEEKEND
THE OUTSIDE TRACK SUMMER SCHOOL

---
Vocal Jazz Workshop
7 - 9 April, The Old Brewery
Tutors: Liane Carroll, Fionna Duncan, Sara Colman, Sophie Bancroft, Brian Kellock.

These experienced and esteemed jazz musicians will guide you through VOCAL JAZZ WORKSHOPS with focus areas including interpretation, phrasing, technique, performance focus, communication with musicians, bodywork and much more.

Plus free entry to the Tutor Concert at the Stables on Thursday 6th April at 8pm (see Live Music listings) and to the Student Concert at the Old Brewery on Sunday 9th April at 1.30pm - a selection of great singers singing amazing jazz songs.
All further info, prices, residential packages and bookings at www.sophiebancroft.co.uk/teaching/workshops

---
Workshops with The Shee
THESE WORKSHOPS, DINNER & SESSION HAVE HAD TO BE CANCELLED. WE ARE SORRY FOR ANY INCONVENIENCE & DISAPPOINTMENT.
THIS DOES NOT AFFECT THE SATURDAY EVENING GIG!
16 April, the Old Brewery
Join the members of talented band, THE SHEE in individual mandolin, fiddle and harp workshops throughout the morning (having been inspired by seeing the band in action at the Stables the night before!).
Workshops - £20 per session. Suitable for intermediate level and above.
Workshop 1: 10.00am - 12.30pm
Lunch: 12.30pm - 1.45pm
Workshop 2: 2.00pm - 4.30pm
Dinner: 6.00pm
Session: 8.00pm

Harp – Rachel Newton
Fiddle - Shona Mooney
Mandolin - Laura-Beth Salter
Homemade soup & sandwich lunch plus tea/coffee throughout the day for £12.00
Two course homemade dinner + evening session is £18.00
The Sunday evening Session starts at 8.00pm and is open to all - workshop participants, local instramentalists and anyone who would like to soak up the craic! This is a great opportunity to actually make music with the professionals as The Shee members will also be joining in. BYOB.

Accommodation in the Old Brewery is available.
What a better way to spend your Easter Weekend!
Contact info@cromartyartstrust.org.uk / 01381 600354 to book your place.
---
Sing Your Heart Out
13 May, The Stables
Singing together is great for individual health and wellbeing as well as building community.
SING YOUR HEART OUT, 10.00 - 4.00pm with Kate O'Connell offers a fun day to open up your voice and sing some inspirational acappella harmony songs. The chosen songs are relatively simple so that you can learn them and then relax and enjoy the experience of singing together, listening to each other's harmonies.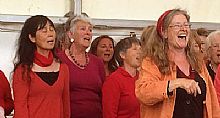 Suitable for all levels of experience. Learning is by ear.
The day includes vocal exercises to increase power, range, quality, and confidence of voice as well as learning some beautiful songs.
£30 Bring a packed lunch & water bottle.
Kate has been based in the Moray Firth area for over 30 years, working as a community artist. She co-led the highly successful Forres Big Choir for 11 years and created performance group 'Too Many Kooks.' In 2016 she set up The Black Isle's new community choir, 'Highland Harmony'.
She is an inspiring leader with an easy relaxed style, making everyone welcome. She has a vast repertoire of acappella harmony songs from these islands and around the world and pays particular attention to songs with uplifting messages for our time, both secular and sacred.

Book your place at info@cromartyartstrust.org.uk or tel 01381 600354.

---
Black Isle Fiddle Weekend
7 - 9 July, The Old Brewery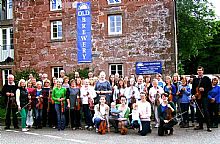 An intensive weekend of workshops, sessions and concerts during the 7th BLACK ISLE FIDDLE WEEKEND organised by Lauren MacColl.

All further info, prices and bookings at www.fiddleweekend.co.uk.

Residential accommodation available at the Old Brewery, booked via info@cromartyartstrust.org.uk

---
The Outside Track Summer School
23 - 28 July, The Old Brewery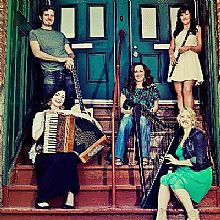 THE OUTSIDE TRACK SUMMER SCHOOL offers a week of tuition, concerts, ceilidhs and craic in the Scottish Highlands, hosted by The Outside Track.
Participants will receive group and individual tuition in their chosen instrument (harp, fiddle, accordion, flute/whistle and guitar), plus enjoy group singing and stepdance workshops. By keeping the numbers very low – only max 6 participants per tutor, individual needs can be attended to, and personal focus given.
Teaching will be a combination of tradition and technique tailored to suit the participant level, with time to address both technical issues such as improving dexterity, left hand coordination, etc, alongside traditional elements - ornamentation, tempos, rhythm, and of course, lots of time to learn new tunes.
There will be intensive instrument classes every morning from 10am until 1pm. The afternoon will include classes in song, step dance composition, group work as well as afternoon activities. In the evenings we will have informal sessions, a ceilidh, a student concert and a concert by The Outside Track.
Residents will have accommodation, full board and all tuition and evening activities at the Old Brewery included in the course price.
Non residents will have all tuition and evening activities as well as lunch at the Old Brewery included.
All further info, prices and bookings at http://outsidetracksummerschool.weebly.com